Description
The Cloud comes to Golden Records.  Golden Records is established as an archery records keeping program for archery clubs.  With Cloud Services enabled data is shared between multiple instances of the core program.  Your data is hosted in the Cloud and synchronised with a local database on each PC.  Synchronisation is transparent, and every instance of Golden Records is up to date with the latest records.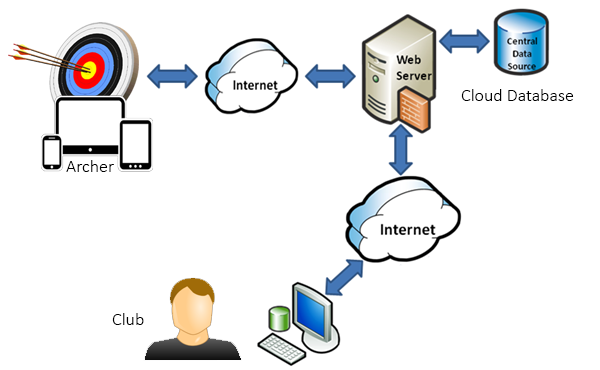 A key benefit for club records officers is that your members can now submit scores on-line.  Instead of you having to receive scores and manually enter them, your members do.  They could even do this from the shooting line.  Not only that but they can view the records you hold on-line.  Every time you run Golden Records now, the latest score data is downloaded to Golden Records.  When your members enter their scores, their handicaps and classifications are also updated.
Your cloud data is duplicated on the local machine; the software works off the local database which is synchronised with the cloud database.  If no connection to the cloud database is possible, the software will work off the local copy until it can be synchronised.  No dependency on an internet connection at the club.
Your data is hosted on Microsoft Azure and synchronised to the local database.  Security is paramount, you control members access from within Golden Records, and access to your data is password protected.  The cloud database is encrypted, and data transferred by an encrypted connection.
You need to purchase a subscription to use the Golden Records Cloud.  You also need to be running Golden Records 4.